BallerTV understands the urgency of our fans watching at home and wants to help fans reach the correct solution for what they need, as soon as possible. In this guide, we'll be taking some of our most Frequently Asked Questions and recommending the fastest course of action to an appropriate solution.
Best way to contact us: via Live Chat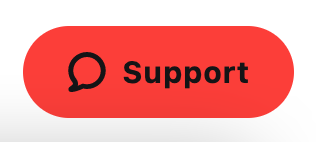 Look for the red "Support" button in the lower right corner of this page or any other page at BallerTV.com to begin a live chat.
Why it's the best: Our live chat agents are experienced in hunting down the correct live streams to connect you to the video you need to see as soon as possible. Please try to have as much information as you can provide ready in order to speed up the process! Live chat is the best way to reach out as our agents can serve you a link that takes you directly to the game you're trying to see.
I've been charged even though I stopped using the service!
Best way to contact us: via Billing Support Line (Phone Number is Listed on Your Payment Card's Statement)

An example of where to find the BallerTV billing support phone number on an online Credit Card statement.
Why it's the best: BallerTV doesn't publicize this phone number in order to ensure the help line is only available to people who have purchased a subscription via BallerTV. This keeps call waiting times low (many times non-existent) and issue resolutions as quick as possible. If you're unable to reach an agent during business hours, simply leave a voicemail with a brief description and someone from our team will reach out to you at the start of the next business day.
How do I cancel my subscription?
Best way to contact us: via Chat/Email or Self-Service (Where Available)
Why it's the best: Self-service and live chat cancellations are processed immediately, while email cancellation requests are processed upon receipt (usually within 1-2 business days).
How do I get BallerTV at my next sporting event?
Best way to contact us: Partnerships Page
Why it's the best: This will directly contact our partnerships team, skipping a step of forwarding from our agents and getting your information in the right place as soon as possible!